M&M Skits
M&M Skits is a comedy skit crafted by friends Michael Tweedie and Max Hamlyn. Capitalizing on a wide range of comedy they hope to make others laugh with their hyperbolic and idiosyncratic scenarios.
:
---
Meet The Hosts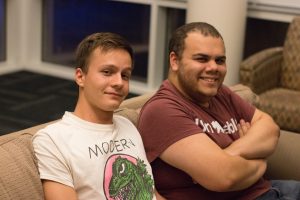 Max Hamlyn is a senior from Waynesboro, VA. He is a Communication major with a concentration in media production. He is currently the social media chair of the Phi Kappa Sigma fraternity. Upon graduating, Max hopes to continue a career in television. He has always been a fan of skit shows, and draw inspiration from SNL, MADTV, and The Whitest Kids You Know.
Michael Tweedie is a junior from Wood bridge, VA. He is a English major with a concentration in Literature . He has been working with comedy since his junior year of high school when he began preforming open mics at local coffee houses. Upon graduating, Michael hopes to find a career in television. He has been a long time fan of comedy drawing inspiration from comedians like Mike Birbiglia, John Mulaney, Richard Proyor and Todd Barry.