Elections onAir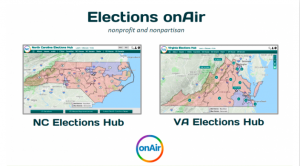 Elections onAir is a nonprofit, nonpartisan social enterprise that supports the development and hosting of open access and curated networks of Election Hubs, including this Virginia Elections Hub.
Elections onAir Knowledge Hubs aggregate and promote the best knowledge about a topic and its related news, events, resources, people, and organizations. Elections onAir Hubs also provide a variety of tools for Hub member engagement including forums, live streaming with online conferencing, and interactive Q&A sessions. Elections onAir provides its Hub organizers and managers with the support and guidance to make their Hub the go to place for their topic.
Click on the graphic to access their page.
About
Elections onAir collaborates with leading associations and other Non Governmental Organizations and subject matter experts to oversee the management of its Hubs and related YouTube channels and Twitter accounts. Using our knowledge sharing platform, onAir hosts all its Hubs on its onair.cc domain. OnAir also provides whatever design, development, and content support that is required. OnAir will share sponsor and other revenues with its collaborators. Elections onAir is chartered as a nonprofit organization in Virginia. Elections onAir has its 501 C3 status so donations are tax deductible.
Founding Fathers
Meredith Cary, PsyD
Meredith is a a Clinical Health Psychologist practicing in Washington DC and a behavioral sleep specialist associated with Medstar Georgetown University's Sleep Disorders Center. Dr. Cary leads the development of the onAir Health Hubs. To learn more about Meredith Cary, go here on her professional website. To contact Meredith, email her at meredith@onair.cc.
Jim McLean, Aircast Producer
Jim is the lead designer of our Aircast system as well as its lead producer. Jim is an Instructional Technologist / Visual Media Specialist at George Mason University and the owner and principal photographer of the Vintage Photographer. To learn more about Jim, go here. To contact Jim, email him at jim@onair.cc.
Todd Gillette, PhD
Todd is a Future Technical Leader at Northrop Grumman who assists with programming for the onAir Election Hubs. Todd also is the visionary behind the Election Hubs concept. Dr. Gillette has a PhD in neuroscience and BS in Computer Science. To learn more about Todd, go here. To contact Todd, email him at todd@onair.cc
Scott Joy, Entrepreneur
Scott is the lead designer of the onAir knowledge sharing platform. Scott was founder and Chair of the first tablet computer company to become a public corporation as well as a pioneering P2P Internet company integrating smart phones. To learn more about Scott, go here. To contact Scott, email him at scott@onair.cc.
Becoming an onAir member
Elections onAir Membership is free and open to everyone. Participation in specific Hubs may require a fee depending on the Hub. The Virginia Election Hub is free for all Virginia residents.
All onAir members will a have a profile. Profile information is optional. Members, if they choose, can have different profiles for different Hubs. Besides having your professional profile in a Hub, you can also submit your organization's profile to the Hub's curators for inclusion in the Hub. Hub members can also comment on posts, participate in live streamed, interactive programs or Aircasts, submit new posts for inclusion in the Hub, and be a Hub Curator.
Login
Elections onAir Members login by selecting the silhouette icon at the upper right of your screen. Enter your user name and password. To change your password, select "Edit Account" in drop down and enter your "New Password" and "Repeat New Password".
Author and Share Posts
As a Hub member, you can become a lead curator or co-curator of one or more posts in an existing Hub. Hub Curators determine where your post is located in this Hub and in what order in a category.