Meet the Team
Mason Cable Network has a variety of people working to make sure that the channel runs and has content. We run 24/7 on our campus channel and broadcast our live events and shows online, here on masoncablenetwork.com. The following people make that happen. Feel free to contact us at mcn@gmu.edu.
Fun fact: All executive staff at Mason Cable Network and other GMU Student Media outlets are students who attend the university.
---
Kera White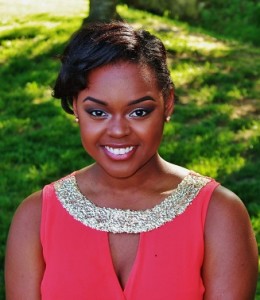 General Manager

Major: Communication, Media Production & Criticism
Minor: Film and Media Studies
Minor: African American Studies
Year: Junior
Bio: Kera is originally from Newport News, Virginia and attended Woodside High School for Performing Arts. Kera started at MCN as the News Director and created the segment Freshmen's Corner which is based on freshmen events & the underclassmen college experience. Her passion for media began in 2014 when she attended the Washington Journalism and Media Conference here at George Mason University. This conference invites high school students from all over the United States to be National Youth Corespondents and engulf themselves in discussions surrounded around the field of media. She returned as an assistant photographer/videographer this past summer and worked under freelance photographer, Meghan ATB Reese. Outside of Mason Cable Network, she is involved in Black Student Alliance, Zeta Phi Beta Sorority, Inc. and has created her own production company, Amethyst Films. She is also the 1st Runner Up for the Mr. and Ms. Black GMU Pageant. With this title she is able to create her film festival that she pitched during the pageant this fall semester! Kera is pursuing a career in Television in order to produce shows, movies, etc. about empowering women of all shapes and sizes.
Contact: kwhite30@gmu.edu
---
Production Manager
Major: Communication, Media Production & Criticism
Minor: Political Communication
Year: Junior
Bio: Angelique was born and raised in Manila, Philippines and moved to Sterling, Virginia when she was ten years old. Her hobbies include working at her local movie theater, photography and spending time with friends. She graduated from Potomac Falls High School and Monroe Technology Center in 2016. She found her passion for television production by enrolling in the TV Production & Digital Moviemaking program at Monroe during her junior/senior years of high school. At George Mason, Angelique is a part of Mason Cable News, Society of Professional Journalists, GMU Fourth Estate and enjoys working with other outlets at the Office of Student Media. As a freshman with Mason Cable Network, Angelique served as the Assistant Production Manager and was promoted to Production Manager just one year later. She enjoys the creativity and integrity behind multimedia journalism, and is furthermore interested with the discipline's connection to political communication. Angelique aspires a career as a reporter or producer at a local news station.
Contact: aarintok@gmu.edu
---
Assistant Production Manager
Major: Communication, Media Production & Criticism
Year: Freshman
Bio: Cruz grew up in Tulsa, Oklahoma and graduated from Bishop Kelley High School in 2017. His interests include media, photography, running, and traveling. He started down the media path when he first discovered short films on YouTube. Shortly after, he joined Bishop Kelley's television network where he learned the ins and outs of livestream production. While at Kelley, Cruz worked with several other students to film musicals, concerts, and other events. On the side, Cruz would make shorts with his friends that would ultimately lead to the founding of a production company. His future career goal is to produce television shows that showcase and promote the wonders of the world.
Contact: csanche@gmu.edu
---
Senior Video Editor
Major: Information Systems & Operations Management
Year: Junior (Transfer Student)
Bio: Angie was born in Dominican Republic and came to America when she was about three years old. She has always loved to play with cameras and to edit videos for the family. She started her own YouTube channel and uploaded music videos and shorts there. Now, she mainly focuses on vlog type videos. She graduated from Osbourn Park High School in 2015, and has done some freelance photography and videography work. She has PA'd for a T.V series called "Almost Spies" and hopes to have a career in video production. Her passions include helping people and making creative projects. Her ultimate goal is to find a find a career that lets her do both.
Contact: ameredi2@gmu.edu
---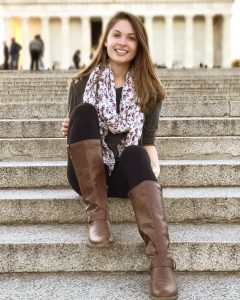 Ashley Melton
Deputy Video Editor
Major: Communication, Media Production & Criticism
Year: Senior
Bio: My name is Ashley Melton, I am a Senior with a major in Communications and a concentration in Media Production and Criticism. I grew up in Bristow, Virginia and graduated from Patriot High School. I became interested in video production when I took a TV production class, and was specifically interested in video editing. My hobbies include, photography, physical fitness, and exploring new things with friends. My future goal is to become a video/film editor in D.C, Richmond, Los Angeles, or New York.
Contact: amelton4@gmu.edu
---
MCNews Director
Major: Communication, Media Production & Criticism
Year: Junior
Bio: Airelle was born in raised in Richmond Virginia. She first started her communication path when attending Manchester High Schools specialty center for Mass Communication. After transferring, she graduated from Hermitage High School where she was the main news anchor for the news. Freshman year she served as the Live news anchor for Mason Cable News, and second semester was made Assistant news director, while still holding her position as main news anchor. Her ultimate career goal is to serve as a News Anchor, and one day own a news station geared toward helping African Americans and the surrounding community.
Contact: athornhi@gmu.edu
---