About MCN

Mason Cable Network…
…is the student operated television network airing 24 hours a day, 7 days a week to approximately 6,000 residents on the Fairfax Campus. MCN has been serving the George Mason Community since the fall of 1997 and has thrived on the network's signature motto "your face, your voice."
Here at Mason Cable Network, we have built a training ground for any student who hopes to gain hands-on experience or further their career in television or film.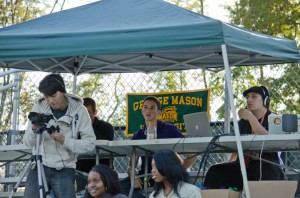 Starting in 2012, our broadcast switched over to high definition to increase the quality of our content.
Fall 2012 was the first semester that Mason Cable Network has had the ability to produce and distribute live content through the network and online websites through livestreaming. We've already made huge strides in the content we've provided live which included broadcasts of the 2012 Obama and Romney political rallies at George Mason University, the entire club football home season, Mason Madness, and several campus events.
Starting in the Spring of 2013, we'll be bringing our broadcast online 24/7 to expand to a wider audience.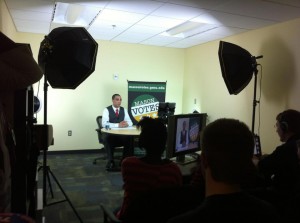 As we move forward, we strive to bring the Mason Nation programming that is geared to the community, whether that be news, sports, or entertainment.
No matter the occasion, no matter the program, Mason Cable Network is 24/7 programming for Patriots by Patriots. Come and visit us in the Office of Student Media in the HUB, formerly Student Union Building II.