Daily Update (08/31/15)
Posted: August 31, 2015 at 12:38 pm, Last Updated: August 31, 2015 at 5:18 pm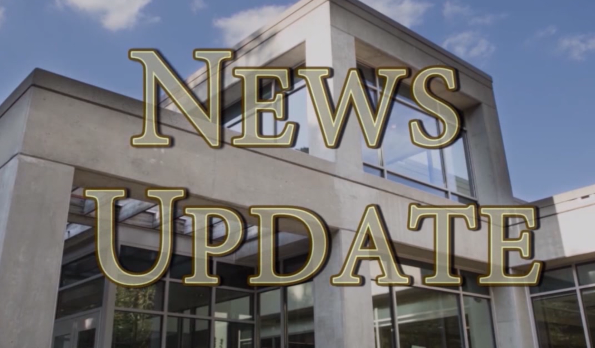 Follow us on on Twitter : https://twitter.com/masoncablenews
Transcript:
GOOD MORNING GEORGE MASON, TODAY IS MONDAY AUGUST THIRTY-FIRST, AND WELCOME TO THE FIRST DAY OF CLASS FOR THE TWO THOUSAND-FIFTEEN TWO THOUSAND-SIXTEEN SCHOOL YEAR. HERE ARE TODAY'S TOP STORIES
LAST WEEK, GEORGE MASON UNIVERSITY WELCOMED THE CLASS OF TWENTY-NINTEEN TO CAMPUS. ACCORDING TO UNIVERSITY PRESIDENT ANGEL (On-Hell) CABRERA, THIS CLASS IS THE LARGEST AND MOST DIVERSE IN THE SCHOOL'S HISTORY. -THAT LARGE NUMBER BEING OVER THREE THOUSAND FIRST TIME MASON STUDENTS.- FRESHMAN MOVED IN ON THURSDAY WHILE THE REST OF MASON NATION MOVED IN OVER THE WEEKEND.  FROM ALL OF US HERE AT MASON CABLE NEWS WELCOME TO MASON
SPEAKING OF FRESHMEN, THE CLASS OF 2019 WAS WAS WELCOMED WITH THE PREAMBLE LAST FRIDAY. STUDENTS WERE WELCOME BY THE FACULTY AT THE NEW STUDENT CONVOCATION IN THE MORNING AND IN THE EVENING OVER ONE THOUSAND ATTENDED THE ANNUAL CATHOLIC CAMPUS MINISTRY LUAU. FINALLY, THE FRESHMEN WERE TAUGHT THE FIGHT SONG AT THE PATRIOT PREMIERE. THE NIGHT CONCLUDED WITH A DANCE PARTY AT THE EAGLEBANK ARENA.
WRAPPING UP THE MOVE-IN NEWS, TAYLOR HALL OFFICIALLY OPENED LAST SATURDAY EVENING. STUDENTS WERE TREATED TO A PARTY COMPLETE WITH FREE FOOD AND MUSIC. TAYLOR IS LOCATED IN PRESIDENTS PARK AND IS FRESHMAN DORM. THE BUILDING WAS SET TO OPEN LAST YEAR BUT WAS DELAYED. THE OPENING OF TAYLOR BRINGS THE AMOUNT OF ON CAMPUS BEDS TO ALMOST 3500 AROUND 6500.
THE WEATHER MAY HAVE BEEN NICE THIS WEEKEND, BUT THE SAME CAN'T BE SAID FOR THE FIRST DAY OF CLASS. HERE IS YOUR FORECAST BROUGHT TO YOU BY MASON SENIOR NICK STASIAK. TODAY WILL BE MOSTLY CLOUDY WITH A CHANE OF T-STORMS LATE RON IN THE TODAY. THE HIGH TODAY WILL BE 88 WITH TEMPERATURES DROPPING IN THE EVENING TO 70.
TODAYS  STUDENT ORG SPOTLIGHT IS GMU FASHION SOCIETY.
EVENTS;
PARTY SOBER (HOSTED BY WAVES) CORNER POCKET 2-5PM
WELCOME WEEK FAIR 12-4PM
Write to rhoran at rhoran@masonlive.gmu.edu