Advertising
Mason Cable Network, (MCN) broadcasts 24 hours a day, 7 days a week to approximately 6,000 residents on the Fairfax Campus. MCN has been serving the George Mason University Community for over 10 years and has thrived on the network's signature motto "your face, your voice". MCN has various options for reaching the on-campus community.
Airtime (Run of Network)

Ads may be 30 to 60 seconds long. Ad content may be a video or flyer which will be converted into video format for the allotted airtime. Ad content may be changed anytime during your contract.
30 seconds: $63/week
60 seconds: $98/week
Custom Commercial Production
Mason Cable Network has a talented production crew who can help create an ad campaign that will stimulate interest in your business, department, or organization. Commercial production includes a sit down briefing of what is desired for the commercial, pre-production, production, and post-production. Ads will have a two week turn around from start until finish. Click here for an example of a commercial we can produce.
30 seconds: $150
60 seconds: $200
News Scroll
MCN has a news scroll that runs every 8 minutes. Updated daily, the scroll brings the Mason Community a daily weather forecast, news, events, shoutouts, and announcements.
$5/day
Submissions may not contain offensive language and must be 60 characters or less, including spaces.
MCN will take up to 4 submissions per week. MCN reserves the right to deny submissions.
When your submission is received, we will email you back to confirm your submission is in rotation.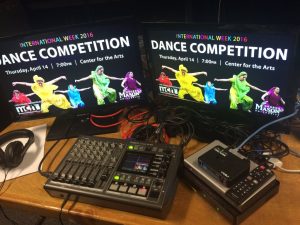 Discounts
Frequency:
4-7 Weeks: 10%
8-11 Weeks: 15%
12+ Weeks: 20%
Other:
Summer Discount: 50%
On Campus Departments: 25%
Student Organizations: 50%
Deadline, Format, and Payment
Ads are due 2 business days prior to the start date of your ad. Ads needing production require 10 business days.
Ad materials must be submitted electronically via email to ads@masoncablenetwork.com
Ads may be billed or prepaid with check, cash, Visa or Mastercard.
Information:
Phone: (703) 993-2942
Email: mcn@gmu.edu
Fax: (703) 993-2948
Address:
The Hub, Room 1201
4400 University Drive
Fairfax, VA 22030
* Note: The advertisements that air on Mason Cable Network, or masoncablenetwork.com, do not represent the views of Mason Cable Network, the Office of Student Media, or George Mason University.