Meet the Team
Mason Cable Network has a variety of people working to make sure that the channel runs and has content. We run 24/7 on our campus channel and broadcast our live events and shows online, here on masoncablenetwork.com. The following people make that happen. Feel free to contact us at mcn@gmu.edu.
Fun fact: All executive staff at Mason Cable Network and other GMU Student Media outlets are students who attend the university.
Olivia Whitehouse
Mason Cable News Director
Major: Communication, Concentration in Media Production and Criticism
Year: Senior
Bio: Olivia grew in Hampton, Virginia and graduated from Kecoughtan High School in 2017. Olivia has been passionate about broadcast journalism since high school, where she took her first journalism class. Besides Mason Cable News, Olivia is also involved with Greek life on campus is in the sorority, Pi Beta Phi. Before becoming the General Manager, Olivia was an anchor and the News Director for Mason Cable News. As the General Manager, she hopes to bring new ideas to Mason Cable News and help make the show the best it can be. Olivia's dream job after college is to be a News Anchor.
Contact: owhiteho@gmu.edu
Production Manager
Major: Communication
Year: Senior
Bio: Jack grew up in Reston, VA. Prior to coming to Mason, he decided to do a gap year in Worcester, Massachusetts. He first started production work after receiving an internship at a local cable television station. In his free time, he likes to hang out with friends and watch movies. Jack also studies the weather and knows a lot of random facts. Jack's dream job after college is to be in the film or television industry.
Contact: jdunne@gmu.edu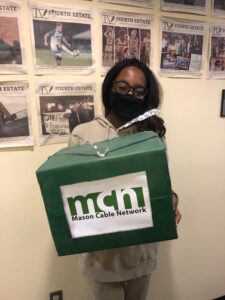 Sydney Johnson

Programming & Social Media Manager
Major: Communication, Journalism and Media Production & Criticism
Year: Junior
Bio: Sydney Johnson grew up in Annapolis, Maryland, and graduated from Annapolis High School in 2019. Her interests include reading, writing, social media, and video editing. Besides Mason Cable News, Sydney is the Vice President of the GMU Society of Professional Journalists chapter and a staff writer for the Fourth Estate News section. After Mason,
Contact: sjohns78@gmu.edu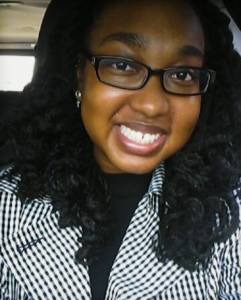 Patrice Pannell

Senior Video Editor
Major: Films and Video Studies
Concentration: Production/Post-Production
Year: Senior
Bio: Patrice Pannell was born in Queens, New York, and graduated from Robinson Secondary School in 2013. Her interest includes video editing, reading, listening to music, and spending time with her family. She got her start at Mason Cable Network while she was pursuing her degree in Communications. She first started as a video editing intern and is now the Senior Video Editor for the network. And just like how Mason Cable Network helped her further pursue her passion in editing, she hopes to give other people that same opportunity while working here.
Contact: ppannell@gmu.edu