Meet the Team
Mason Cable Network has a variety of people working to make sure that the channel runs and has content. We run 24/7 on our campus channel and broadcast our live events and shows online, here on masoncablenetwork.com. The following people make that happen. Feel free to contact us at mcn@gmu.edu.
Fun fact: All executive staff at Mason Cable Network and other GMU Student Media outlets are students who attend the university.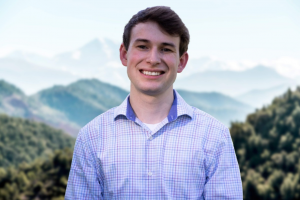 Cruz Sanchez
General Manager
Major: Communication, Media Production & Criticism
Minor: Global Affairs & Event Technical Production
Year: Senior
Bio: Cruz grew up in Tulsa, Oklahoma and graduated from Bishop Kelley High School in 2017. His interests include media, photography, running, and traveling. At George Mason, Cruz is a part of Mason Cable News, Mason Cable Sports, and the Running Club. As a freshman and Sophomore with Mason Cable Network, Cruz served as the Assistant Production Manager. Now, he currently serves as the General Manager. Cruz hopes to sustain the network's growth, and bring new student concepts to the table. He enjoys the creativity and integrity behind multimedia broadcast and journalism. Cruz aspires to produce television shows that showcase and promote the wonders of the world.
Contact: csanchez@gmu.edu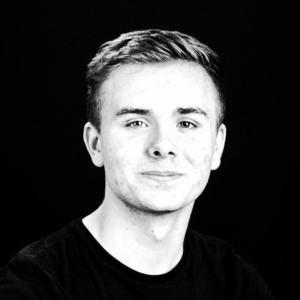 Garrett Glatz
Production Manager
Major: Communication, Media Production and Criticism
Minor: Sports Communication
Year: Sophomore
Bio: Garrett grew up in Fairfax, Virginia, and graduated from Robinson Secondary School in 2019. His interests include, television production, dancing, video editing, and teaching dance. In his Freshman year here at Mason, Garrett will be fulfilling the role of Production Manager. Garrett hopes to help in growing the Mason Cable Network, along with creating great shows. Garrett wishes to be a producer on television shows for major sports media companies in the future.
Contact: gglatz@gmu.edu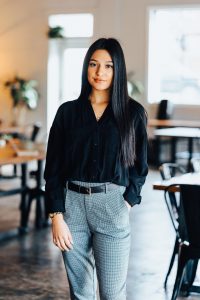 Angie Portillo
Programming & Social Media Manager
Major: Communication, concentration Public Relations
Minor: Journalism
Year: Senior
Bio: Angie grew up in Culpeper, Virginia and graduated from Eastern View high school. She was a part of the Germanna Scholars program which led her to graduating high school with an associate degree. At George Mason, Angie is a part of Mason Cable News, Young Life, RatedR models, Christians on Campus and Well So. She loves fashion, beauty, art, cooking and fitness. Angie was the social media intern for a Non-profit organization in the summer and hopes to bring the knowledge and skills she obtained to Mason Cable Network. Angie is excited to be a part of the team and hopes to spread creative and inspiring ideas.
Contact: aportil5@gmu.edu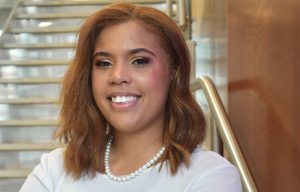 Reagan Ortiz
Mason Cable News Director
Major: Communication, Journalism & Media Production and Criticism
Year: Junior
Bio: Reagan is a transfer student who joined the MCN family during her sophomore year, with The spill, Mason Munchies, and Mason Cable News. Giving a voice to those without them, is what has driven Reagan to Broadcast Journalism. Advocacy and community service are the core to Reagan's Identity and values. After graduation Reagan intends to pursue a career in the entertainment field as a talk show host, or television personality. Reagan's passions include television and film, food and Meme's. Reagan is apart of various organizations on campus, feel free to stop her and ask how you can get involved with MCN.
Contact: rortiz6@gmu.edu