Mason Sports Insider
Mason Sports Insider is Mason Cable Network's sports talk show. It highlights all of the major events happening in Mason sports and covers everything Mason Athletics related from basketball, soccer, tennis, volley, swim and dive, and so much more. Tune in every week to see the best plays in every Mason sport.
Click below to watch the latest Mason Sport Insider.
---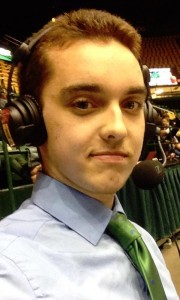 Meet the host:
Dan Ward is majoring in economics and minoring in sports management. He announces George Mason Women's Basketball, Men's and Women's Soccer, Men's and Women's Volleyball, Baseball, and Women's Lacrosse. In his spare time, Dan loves to play baseball. He frequently can be seen tossing around a football with friends around campus.
---
Follow Mason Sports Insider on: